TESTIMONIALS
Our Alumni makes us Proud. We recognize your commitment and celebrate your successes. See what our alumni have to say about their experience at Sukkur IBA University. We would love to hear your story, too.
If you would like to be interviewed for an alumni testimonial video, please contact: Assistant Manager Alumni Affairs at +92-71-5644260 or cdc@iba-suk.edu.pk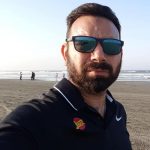 Mirza Umair Baig, '2000
My association with Sukkur IBA as a business graduate has endorsed multiple skills and competencies. I have been pursing my professional career for 12 years. I have been working for various national and multinational companies, made several records, achieved high benchmarks and made a good place in a competitive market. Whatever success I have acquired, credit goes to Sukkur IBA. At the moment I am serving in a top international telecommunication group.